The Human Computer Interaction Graduate Program is pleased to announce the addition of an Online HCI master's degree program, M. HCI, effective with the fall 2017 term. This degree program was created from the growing demand from business and industry for a graduate degree program that provides education in the field of Human Computer Interaction.
Students in this program will be required to take four courses, one each from the Design, Implementation, Phenomena and Evaluation categories. However, M.HCI students must take two additional courses of their choice from the list of core courses or the list or recommended electives. M.HCI students will therefore be required to take a total of six courses (18 credits) from those listed below and the remaining four courses (12 credits) would be electives of your choosing.
---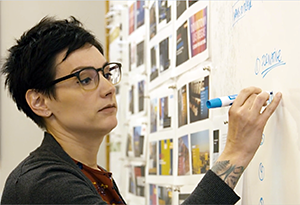 Elizabeth Holloway
Online HCI Graduate
User Experience Designer
Las Vegas, Nevada
Watch Elizabeth's Story Below
Core Courses
Design
Implementation
Phenomena
Evaluation
Note: A grade of 'B' (3.0 GPA) or better is required for each of the core HCI courses.
Recommended Electives
Course Delivery
Courses are available online using streaming media over the web. The courses consist of recorded lectures delivered using streaming media technology as well as teacher-student interaction via chat-room, email, and phone conversations.
Tuition and Fees for Online Courses
The Human and Computer Interaction Masters program is a 30-credit program which can be completed in as little as two years.  Visit the tuition and fees page for details or call 515-294-7470 for more information.
The Online HCI Graduate Program Application Process
Fill out the Application for Graduate Admission to ISU form. Please mention somewhere on the form that you are interested in the online M.HCI degree program.Send the application, application fee, official transcripts, and official examination results, if required, to:
The Office of Graduate Admissions
Iowa State University
100 Alumni Hall
Ames, IA  50011
Submit a current résumé/CV, statement of professional goals and a statement of software development proficiency by uploading it as supplemental material to the online application.  If you do not have the ability to upload your application please submit a PDF (preferred) or Word (.doc) copy electronically to the program, gradapp@hci.iastate.edu. We prefer that you use the online letter of recommendation process.  By including your recommenders' names and e-mail addresses on the application form, they will be sent instructions on how to submit their letters electronically. If a recommender(s) prefers to submit a hard copy, they should download and complete the Letter of Recommendation form available on the ISU admissions website and submit it directly to Human Computer Interaction (NOT the Office of Admissions). In that case, you will need to provide the recommender with the gradapp@hci.iastate.edu email address.  Please note, the Human Computer Interaction (HCI) Graduate Programs Office does not accept paper/hard copies of application or supplemental materials.
---