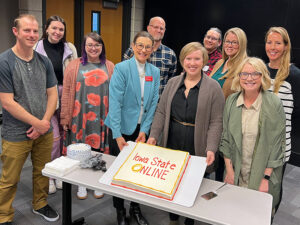 Iowa State University seeks "to be the most student-centric research university and one that fosters life-long learning." To best align with that goal, online units across the university were combined in January 2023.  The new unit is called Iowa State Online and was included in the Center for Excellence in Learning and Teaching reorganization.
Iowa State Online Goals
Support growth and innovation in online courses and degree programs
Foster a consistent brand for online education
Ensure a seamless, high-quality experience for both students and instructors
How we can serve you and your students?
List online programs on Iowa State Online website
Coordinate with a national research firm to assess online offering gaps and opportunities for colleges
Assist in transitioning former online unit websites.
Collaborate with online consortiums and partners on behalf of Iowa State University
Support current and prospective online learners by answering questions for online learners such as:
– How do I register for my online class?
– How do I access Canvas? I logged into Canvas but don't see my course.
– When is the deadline to drop my online class?
– Is there tutoring available?
*As our services evolve, we will update this page.
What will we not be doing?
Replace and/or take on academic advisor, DOGE, graduate program support, department, college, or major professor roles
Determine what online programs, curriculum, or courses will be offered
Provide program-specific support/administration
Initiate curricular changes
Replace current college marketing campaigns
Replace existing student services
Support
For faculty and staff instructional support and design help, contact CELT Help or visit the Center for Excellence in Learning and Teaching website.
Please direct students with technical support questions to the Solution Center or 515-294-4000. Students with general questions about online courses and programs may contact Iowa State Online.