Computer Engineering – Master's
Computer Engineering
Your 100%-online master's in computer engineering from Iowa State University gives you expertise in the design and development of computer systems and networks. Your study combines electrical engineering and computer science skills to solve problems at the hardware and software interface.
Summary
The work you can do with a master's in computer engineering is elemental to many of the technologies we take for granted every day. Without your skills, a web application may not do what it's supposed to do when you touch the screen of an iPad. Without your expertise, the software that runs a car's anti-lock braking system may not work appropriately with the car's other systems. The Department of Electrical and Computer Engineering (ECpE) offers a 100%-online graduate program in computer engineering so working professionals who are seeking to advance their careers can immerse themselves in a single course per semester and not feel overwhelmed with their existing professional and family obligations.
Admission Requirements
Graduate College Requirements:
4 year Bachelor's degree (or equivalent)
Academic Records/Transcripts
Minimum 3.0 GPA (Program may alter requirement.)
Proof of English Proficiency
Program specific requirements can be found on the Graduate College website.
Application deadlines: for fall admission, please apply by July 15; for spring admission, apply by December 1. More details on application procedures may be found on ECpE Graduate Admissions.
Credits
Master of Engineering
Total: 30 credits
Course-work only degree program, so there is no thesis or creative component.
More details on MEng program of study requirements are found in the ECpE Supplementary Rules.
Contact Information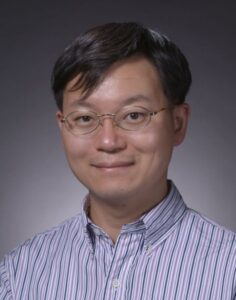 Jaeyoun (Jay) Kim
Director of Graduate Education – Department of Electrical and Computer Engineering
515-294-4214
ecpegrad@iastate.edu
Stacey Ross
ECpE Graduate Admissions
515-294-9162
ecpegrad@iastate.edu
Iowa State Online
515-294-3916
iowastateonline@iastate.edu